T he C ajun S hoppe
www.cajunshoppe.com

Home &nbsp&nbsp|&nbsp&nbsp Store Index &nbsp&nbsp|&nbsp&nbsp Product Search &nbsp&nbsp|&nbsp&nbsp Site Map &nbsp&nbsp|&nbsp&nbsp E-Mail Us &nbsp&nbsp|&nbsp&nbsp FAQ

Hose Assemblies
New High Pressure Propane Quick Connect Hose Assemlies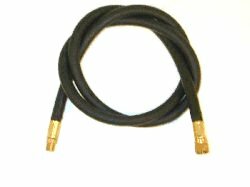 These hose assemblies are made using only high quality American made components. Our hose is 1/4" ID and is rated at 350 PSI.

The brass fittings have a full 1" barb and are available in 3/8" MPT. The fittings are attached to the hose with a heavy 1" brass ferrule.

We also assemble a hose with the necessary fittings to attach a standard propane bottle to devices that normally use a throwaway bottle.

Our standard hose is 5' long with a 1/4" male pipe thread on one end and a 3/8" swivel flare fitting on the other end.

This assembly is made with a hose which is rated at 350 PSI. We can assemble hoses in any length and with any fittings you need.




HOSE-S5..(Standard 5' Hose).......$14.95.....weight 4#
Hose longer than 5' add $1.50 per foot over 5'.
Hose shorter subtract $1.50 per foot under 5'.

If you would like a hose longer or shorter than 5' please put desired length in the comments box when you check out. The price in your cart will not change, we will add or subtract the difference when we process the order.


---
New High Pressure Propane Quick Connect Hose Assemlies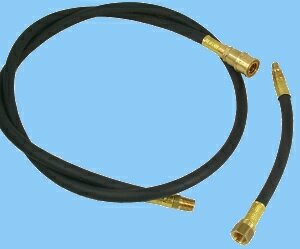 Click on picture for more info
---
Phone 1-337-477-1591 11:00 AM-7:00 PM M-F Central time
Fax 1-337-477-0298 24 hours a day, every day.

We invite your comments as well as your orders!
The Cajun Shoppe email



TCS Home Page

Get complete Offline Catalog

View Online Store Index

Product Ordering methods