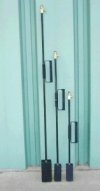 There are 2 models of weed burners:
The standard and the Magnum. The Magnum model has a cross section area 235% than our new standard model.

Both models of our weed burners come in 3 standard lengths.

All of our models have adjustable handle and a needle valve for control and comfort.